Creating the highest quality US Composting Council STA certified compost is something we are pretty passionate about.
Not only are we one of only 3 STA certified compost producers in the State of Michigan, but we have now teamed up with Agrilab Technologies Inc to create a truly state of the art composting system. Not only does this produce the highest quality compost, but the excess heat that is generated during the composting process is used to heat our buildings - helping to create an even more environmentally friendly process.
"Compost - is the product manufactured through the controlled aerobic, biological decomposition of biodegradable materials. The product has undergone mesophilic and thermophilic temperatures, which significantly reduces the viability of pathogens and weed seeds, and stabilizes the carbon such that is beneficial to plant growth. Compost is typically used as a soil amendment, but may also contribute plan nutrients"
- USCC Compost Definition - March 2018
Country Oaks Landscape Supply take's composting pretty seriously. In fact we are one of only 3 companies in Michigan who have been awarded the US Composting Council Seal of Testing Assurance and we are very proud of this!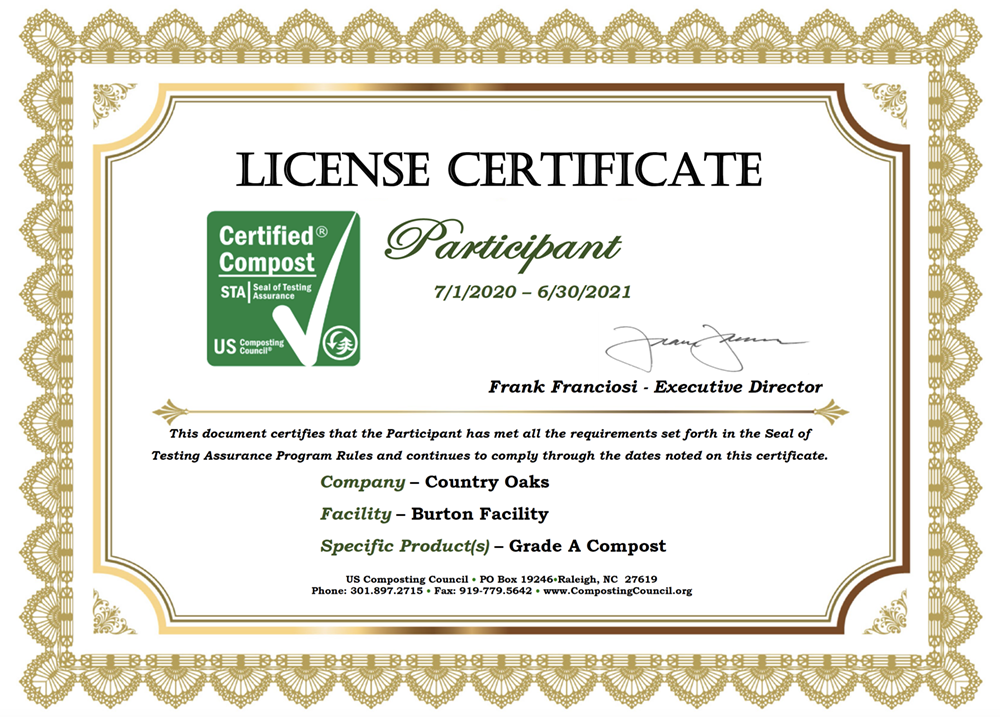 All of our compost is STA (United States Compost Council) Certified. Our compost is tested quarterly to ensure it meets the exact specifications required by the United State Compost Council.
The Organic material in compost provides excellent water absorption and promotes root growth through microbial activity and our custom soil blends are ideal for seeding and planting.
Adding compost to soil takes carbon out of the atmosphere and puts it back into the earth where it can be beneficial to our environment.
GradeA Soil Blend - Just the right blend of STA Compost, sand, and loam to create an all around excellent growing media. Spreads beautifully, excellent water retention, and allows roots to spread unabated. Great for lawns and gardens.
GradeA Bio Swale - STA Compost blended with sand to create soil that is not only good for planting in, but an excellent buffer to retain water. Great for sites that require keeping water run off to a minimum.
GradeA Compost - Our Seal of Testing Assurance (STA) compost from the United States Compost Council (USCC) is an excellent amendment for enhancing challenged soils.
GradeA Compost Pine Mulch - A 50/50 blend of Michigan Red Pine and our STA Grade A Compost. It provides moisture retention and valuable nutrients that percolate down into the soil without tilling. This 50/50 blend will also help with weed control.
Proprietary Blend - A blend of Aged Michigan Red Pine, our STA Grade A Compost, Composted Cow Manure and Peat Moss. It is excellent soil for gardens and even for hemp plants!
Custom Blends - Need a specific blend for a unique application? Let us know the percentages and what material is needed, and we will make it for you.
COMPOSTSOCKS
OUR GREAT LAKES DESERVE A BETTER SILT FENCE
CompostSocks is the best solution for sediment control. CompostSocks is a mesh tube that is filled with our proprietary compost blend. They are typically used for site perimeter erosion control to help stop sediments and pollutants from running off-site. CompostSocks has many benefits over silt fences and is more cost-effective.
DECOMPOSES IN THE NATURAL ENVIRONMENT
Not only does CompostSocks stop sediments from migrating while filtering the runoff water - but there is no need to return to the site later for removal. CompostSocks can simply be sliced open and left to decompose in the natural environment. Unlike silt fence, CompostSocks weight actually helps anchor it to the ground with the addition of stakes, therefore preventing seepage.
COMPOSTSOCKS BENEFITS
Easier installation
Just lay it down - don't have to dig trenches etc like you do with silt fence.
Renewable resource & Easy Clean Up
When the project is done just cut the tube open and dump out the compost/soil.
Cost Effective
The total cost adds up with more time spent on installation. CompostSocks is a quick and easy to install.